Commercial Water Filter Bangladesh
Commercial Water purifier is demand now for use in homes, schools, restaurants, hotels, malls, industries, hospitals, ships, etc to get pure water for daily life. Moriom Water Solution Sales Taiwan and Vietnam made great types of commercial Water Filter price in Bangladesh to get the maximum level of pure water.
We are trying to provide for meet the customer demands and try to focus on quality with a superior level of service. The first one here we talk about…..
Deng Yuan 400 GPD commercial Water Purifier:
Our first choice is Deng Yuan commercial 400 GPD RO System. They have great types of purifiers in BD such as Hot, Cold & Normal RO systems. Deng Yuan is a very renowned brand in Taiwan. The system is much better and has strong build quality which is coming from Taiwan. Deng Yuan 400 GPD commercial Water RO system highly works to remove impurities, microbes, bacteria, organics, heavy metals, and other harmful substances with efficiency. The filter gives you the maximum level of freshwater with control of the TDS level for a safe drink and makes safe drinking water for you. Check the purifier here
Deng Yuan 400 GPD commercial Water purifier Feature:
1.One of the best Taiwan Reverse Osmosis technology in bd with superior level service.
2. Taiwan 6 (Six) Stage RO Water Purifier.
3.400 GPD powerful Water Purification system
Karofi 400GPD commercial Water Filter:
Karofi has already recently get awarded for its innovation in the RO Technology sector. Karofi has hot-cold, normal, and commercial reverse osmosis systems and is one of the best water suppliers in BD. Karofi 400 GPD commercial water purifier is easily usable for 60-100 people on daily basis. The filter uses a Korean membrane so the service is excellent in its position.
Karofi 400GPD commercial Water purifier feature:
1.Excellent Reverse Osmosis technology with the best type of quality service.
2.Vietnam 400 GPD wonderful RO Water filter system Bangladesh.
3.Fairly nice Buildup.
Lanshan 400GPD RO Water purifier
Lanshan provide their service in Bangladesh especially in the RO industry long time and they are one of the best companies from Taiwan. They provide in Bangladesh Hot-Cold and normal reverse osmosis Water System. Lanshan 400 GPD RO Water Filter provides you with the purest water for your daily needs for fresh drinking water. Check here for the Lanshan 400GPD RO Water purifier…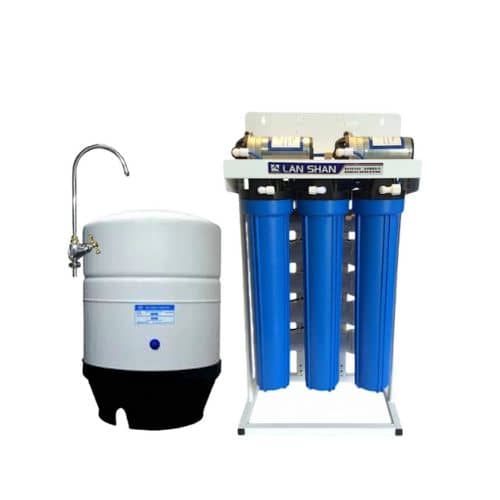 Lanshan 400 GPD RO Water purifier Feature:
1.Great RO service in Bangladesh long years and more reliable RO machine.
2.Taiwan 6 (Six) Stage reverse osmosis
3.400 GPD superb quality RO purifier.