Hot and Cold Water Purifier Price in Bangladesh
At Present we have seen the weather is very unpredictable. Now Most times in Bangladesh we are facing bad weather and nature most of the time hot, cold, or discomfort. Moriom Water Solution is the most top quality hot cold water purifier seller in Bangladesh, Provides Premium levels of Hot and Cold water price in Bangladesh with powerful quality compressor systems.
KIWI TEA BAR with 5stages, 3in1 RO water purifier-12LB1
The First one is KIWI TEA BAR-12LB1 with 5 stages, the water purifier system is a Taiwan-based Reverse osmosis in BD. We recommend this purifier for its beauty, luxury, classic, and for its effectivity. KIWI TEA BAR 12LB1 is the unbeatable 3in1 water purifier ever in BD. If you want an expensive and quality Premium hot and Cold Water Purifier in Bangladesh then go for it without any doubt. This premium water purifier gives you 3-in-1 service and makes the quality of water for you in daily life. Check the Purifier here
KIWI TEA BAR with 5stages, 3in1 RO water purifier-12LB1 features:
The KIWI Tea Bar Hot, Cold, & normal water Purifiers can be considered for multi-purpose facilities.
Attractive & highly premium based water purifier and origin is Taiwan
The power of kiwi is 1380(W) and Voltage is AC 220V, 50 Hz
The Heating power is 1380W Cooling power is 90W and RO Power is 36W
The RO Capacity is 75 GPD and provides nearly 285 Litter per day
Drinking water storage is 3G or 11.4 Litter (Inside)
The heating storage tank is unlimited (kettle system)
The Cold storage tank is 3.5 Litter
Heating capacity is 5L/h, 85-95C and Cooling capacity 2L/H, 5-10C
Without any doubt, we can say that the TEA BAR 5stages,3in1 RO Water Purifier in Bangladesh, and also an all-rounder device provide superior service in its position.
Karofi HC-100 LED Indicator Hot & Cold RO Water Filter.
Karofi HC-100 LED Indicator is a 6 Stage Hot and Cold Water Filter Price in BD. The purifier is a mid-range segment device and serves quality water in everyday life for you. Karofi was getting an award in 2020 for its innovative design and creative looks. Their design is much beautiful and maintains top-level quality for getting the best service. Karofi LED Indicator has a powerful Korean compressor which is great for long-time service. It gives you instant quality and pure hot and cold water for your daily needs.

Karofi HC-100 LED Indicator Hot & Cold RO Water Filter features:
The purifier is made in Vietnam
Headon(Taiwan)Pump and use a child safety lock
6 Stage purifier system
Ariston heater which is made in Italy
100 GPD RO System
3.2 Liter Cold water tank
Manufactured by Vietnam and Korea(Joint Venture)
We can say that this purifier is a solid device from our perspective. So anyone can use or order without any hesitation. To Buy the Karofi HC-100 LED Indicator Hot Cold Water Filter Price in BD Visit here
Lan Shan LSRO 171 Digital Hot Cold Warm Water Purifier
In Hot and Cold, Water Filter Prices in Bangladesh Lan Shan LSRO-171 is the very best quality purifier, service in its position. It can be a suitable product for commercial or official use. The LED display helps you to measure water temperature and make use of coffee or Tea. The Hot Cold purifier is very efficient for a noiseless and low power consumption compressor which can save electricity.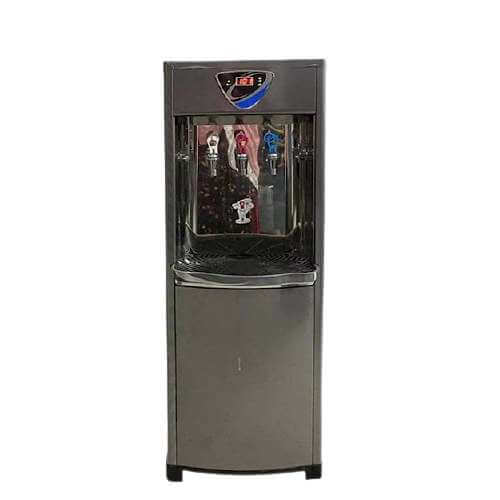 Lan Shan LSRO 171 Digital Hot Cold Warm Water Purifier features:
LSRO-171 is a string build Taiwan-based Water system.
The 5 Stage water system's hot water capacity is 5 liters Cold water Capacity is 3 Liter and the warm is 10 Liter.
The purifier dimension is 53X43X135 CM.
LSRO-171 Digital Hot Cold Warm Water Purifier is a high-grade RO System and can be the best one for commercial or official use or even you can use it in your home for its quality service. Lan Shah Hot Cold water filter price in BD can be the best choice who want a good build quality water purifier for heavy use.
KIWI KW-310HCN – 3IN1 RO WATER PURIFIER:
Kiwi is a Taiwan bases Brand that manufactures very high-quality water products. KIWI KW-310HCN- 3IN1 RO WATER PURIFIER gives you three types of water for drinks. You can use it as a Tabletop or Wall-mounted system.
The Purifier helps you to get instantly fresh, healthy, and tasteful drinking water straight from your kitchen tap or from the Basin connection. The drinking water helps you for cooking and making delicious coffee, tea & ice, juice, etc. You can get rid of all types of water hassle for its instant premium services and save money on costly water.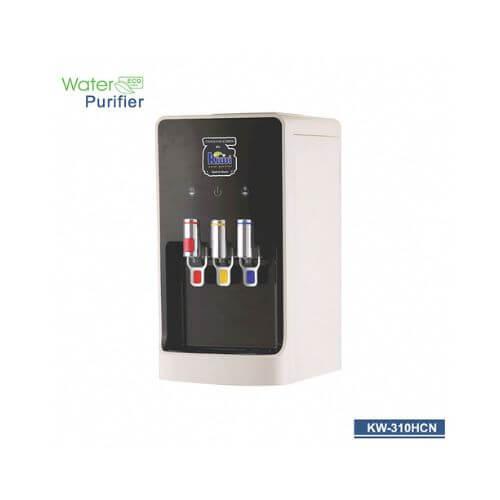 KIWI-310HCN-3IN1 Water purifier features:
Taiwan-made RO System.
The Purification process is PP+GAC+CTO+RO+T-33
You can use it as a tabletop or wall-mounted system.
Drinking water storage: 4.5 Litter (Total Inside)
Heating storage tank: 1.0 Litter
Cold storage tank: 1.5 Litter
Heating capacity: 5L/h, 85-95C Compressor Cooling capacity: 2L/H, 5-10C
Dimension: 17x11x22 Inch
Overall we can say KIWI-310 HCN 3IN1 is a top-notch quality Hot Cold product in Bangladesh and we hope the product can be happier for you for its great service. Check kIWI 310HCN- 3IN1 Hot and Cold-water filter price in bd here
Standing Hot Cold & Warm Lan Shan LSRO-929-CAR RO Water Purifier
Standing Hot, Cold & Warm Lan Shan-929-CAR-RO Water Purifier is a very premium quality water purifier in the Bangladesh water Filter Industry. The Water Filter can Serve you 3 types of water which are awesome for use in different purposes and you may be very happy with your daily requirements.
The Digital Hot Cold Warm Lan Shan RO Water Purifier Hot capacity is 2 Liters, Cold Capacity is 3 Liters, and the Warm water Reserve Tank capacity is 8 Liters which is very enough for a family.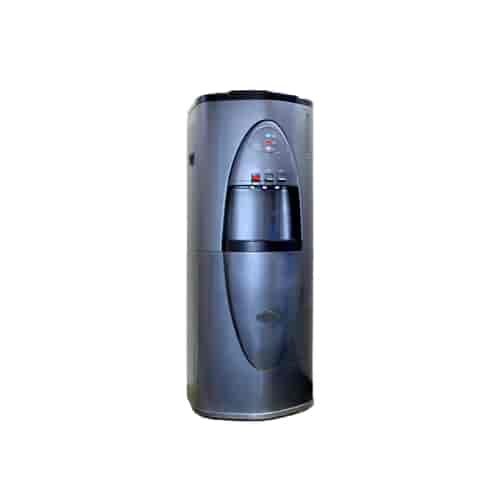 Standing Hot, Cold & Warm Lan Shan-929-CAR-RO Purifier Features:
Lan Shan's Production Capacity is 50 GPD
smart & Perfect 50 GPD RO system
Operating Power: 220V (DC-24V 1.2mA)
Taiwan-made RO Water Purifier
Capacity: Hot: 2L & Cold: 3L & Warm capacity is 8 Liter
Technology: Re-boil function, hot water reaches 100℃ directly
Safety for water shortage, overheating, leakage, and power shortage &
Case adopt SUS 304 Stainless Steel Material
Dimension: 33 X 40 X 105 CM
It can be a good choice for your family or home use. To know more information about Heron GRO-2300 hot cold water filter price in BD visit here
Hot water can be a better solution for instant coffee or tea and so many purposes. Hot and Cold water can be used in many ways for everyday life. We want to provide you most quality products and premium types of hot and cold to get the best services.
Mostly we are mentioned here for especially Powerful Hot and cold water and Prices in Bangladesh. All reviews have been based on quality and from our real experiences. The compressor takes a major role in long-time services and also mention quality compressor types of hot-cold Reverse Osmosis System in BD. We can easily recommend anyone from this series and make life better for the next level.