KO JINE RO Water Purifier
৳ 19,500.00 (-10%)
KO JINE RO Water Purifier is one of the quality products of Taiwan. It has great build-up quality and solid body and long-lasting products

KO JINE makes safe water 100% for drinking without any hassle. The purifier comes with a quality post-carbon, mineral filter, and with a high-quality membrane.

CE certificated quiet, power-saving booster pump. Long life and high production.

100% factory tested and sterilized ready for installation

Note 1: Cash on delivery available in Dhaka and Chattagram or visit our physical store.

Note 2: Delivery time 3-5 working days.

Note 3: 7 days returns

Note 4: One-year product warranty with service.

Note 5: Shipping charge: 60 TK
Compare
Specification:
Brand: Ko Jine
Model: KO JINE RO WATER PURIFIER
Origin: Taiwan
Motor and parts: Taiwan
Per Hour Production Capacity: 10/15 Liter
Membrane capacity: 75-GPD
Reserve Capacity: 3.2 Gallon
Dimension: 18 X 36 X 46 cm
Technology: Reverse Osmosis
Filtration level: 5 Stage
Color: White
TECHNICAL DETAILS:
1st stage:
blue housing 10A PP sediment filter
2nd stage:
blue housing 10A GAC filter
3rd stage:
blue housing 10A CTO filter
4th stage:
membrane
5th stage: T33A Post Filter
FILTRATION OF CARTRIDGE STAGES:
1st stage: Standard & high-capacity polypropylene sediment filter – removes dust, particles, and rust. Protects and extends the life of the membrane and system.
2nd stage & 3rd stage: Premium extruded carbon block – gets rid of unpleasant chlorine, tastes, odors, cloudiness, and colors. Also removes VOC and other common chemicals from the water.
4th stage: High rejection 22 layers of reverse osmosis membrane. Removes up to 95% of Total Dissolved Solids (TDS) and contaminants such as arsenic, lead, fluoride, chromium, radium, bacteria, viruses, and much more.
5th stage: Advanced coconut shell refining carbon – Total Contamination Removal filter removes any possible residual taste from the tank.
Why Use KO JINE RO Waer Purifier?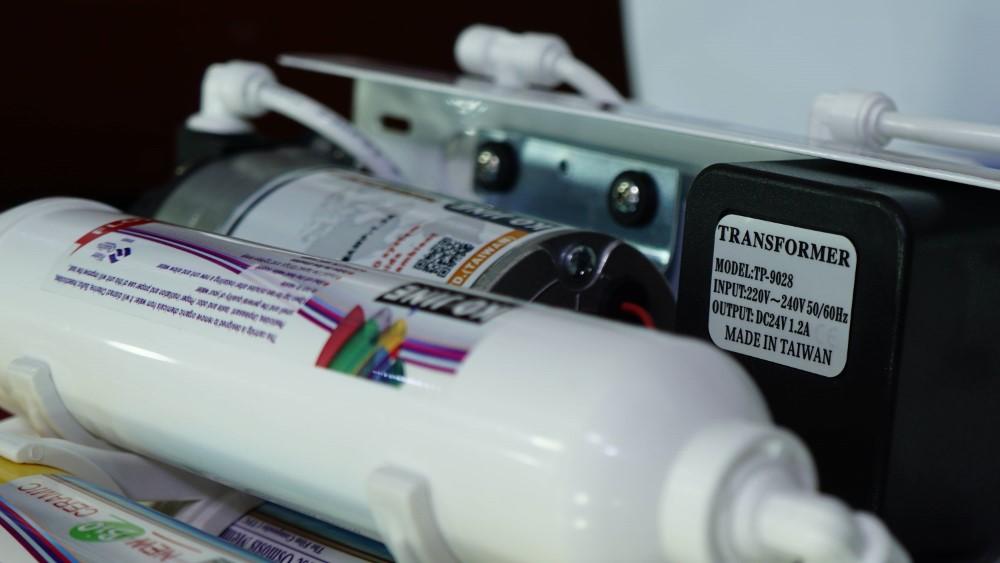 KO JINE makes pure water and produces mineral water and brings a good taste for drink. It has nice-looking faucet tape and a tank. All of these packages make confirm standard build-up and meet demands for your needs. It is suitable for home or office usage.
KO JINE RO Water Purifier Benefits:
Reverse osmosis water removes all bad things and frees people from many diseases and such as high blood pressure low fertility and nerve damage.

RO can also be the procedure for drinking water and can eliminate risks of brain damage and anemic conditions.

RO technology purifies 100 percent safe drinks

It holds the required water mineral through TDS regulation. Minerals are vital for the body




and the purifier makes processes all the ingredients.

It Saves Electricity and is very affordable like a 30-watt energy bulb.

It has a tank reservation system so don't need to take reserve the water separately.




The purifier dismisses water odor and dies.

RO water purifier is 100 percent free from arsenic, sand, chlorine, bacteria, viruses, etc, and provides the best pure water.

The purifier filter is certified by WHO, NSF, and the water quality association in the USA.
Benefits Of Reverse Osmosis Water: 
Ensures 100% safe drinking water.

RO system processes the water for high risk-free so the human body can prevent all types of watery diseases.

Pure and clean water helps to improve the increasing immune system.

Ensures 100% safe drinking water which ensures prevents anxiety about pure water.

The RO system works for removing chlorine, and bacterial contaminants from the water and make water safe, make clean, and tasteful.

The Reverse Osmosis system processes the water for high risk-free so the human body can prevent all types of watery diseases.

For the human body mineral water are very important and provides the required minerals.

The RO system works for also to keep all essential minerals and removes all higher amounts of total dissolved solids.

Pure drinking water can largely benefit children in growing up with a healthy body system.

The water filter can defend against over 2100 known toxins that are present in the water.

The RO system works for the reduction of lead, arsenic, copper, chromium, selenium, fluoride, radium, barium, cryptosporidium, etc. So the water makes for a quality level for consumption.